aste online
Online auction Europoles GmbH & Co. KG, 92318 Neumarkt (GER) from January 20th., 2022, from 8.00 am
On behalf of and for the account of our clients, we auction online
on Thursday, January, 20th., 2022, from 8.00 a.m. on,
due to relocation, the free movable assets of the company
of the company Europoles GmbH & Co. KG,
concrete mast production, steel construction,
and items from additional order,
stored in 92318 Neumarkt i.d.OPf., Ingolstädter Str. 51 (GERMANY)
Inspection time: Thursday, 13th. January 2022, from 9.00 a.m. until 5.00 p.m..
The general Corona regulations are to be followed during the inspection,
as well as during the collection of the items after the online auction.
FFP2 masks must be worn on the company site at all times.
The distance rules must be observed.

Nr. 96160
Großposten Lagerregale - Schwerlastregale Fabr. Thyssen Umformtechnik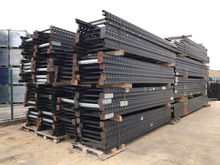 Schwerlast-Palettenregale, Fabr. Thyssen Umformtechnik, Typ: multipal-N, Fachlast: ca. 2.000 kg, Höhen von 3.000 mm bis 5.600 mm, Tiefen von 700 mm bis 900 mm, Gesamtlänge ca. 1.000 m vorhanden

Zusätzlich verfügbar: Palettenschuhe, Palettenaufsätze mit einer Länge von je 1.400 mm und 900 mm Breite
Visualizza dettagli